I wanted to create the Kanji Appliqués on this short jacket, but wanted a different (and faster) approach!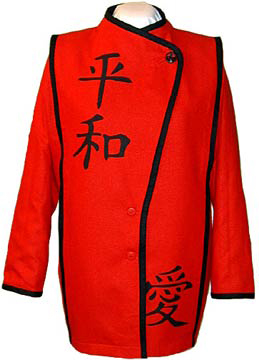 Step 1

I made a stencil out of the freezer paper appliqués, by applying a lightweight plastic (clear packing tape works great) over the design. Then I carefully cut it out with an exacto knife.

Notice the piece of scotch tape holding the piece of the appliqué? You'll need to do this until you can iron down the freezer paper. The magic of freezer paper is it will stay put once ironed to the fabric.

Iron the freezer paper to your fabric using a press cloth so you don't melt the plastic cover! Remove the scotch tape before stenciling.

Step 2

With a sponge dab at your freezer paper stencil with fabric paint. I filled mine in very dark with no shadowing. Remember, I wanted to recreate the look of the appliqués.

Carefully remove the freezer paper stencil from the fabric. Clean off the stencil with a baby wipe. Once dry, heat set your stenciled design!