This is a fast way to create an otherwise detailed appliqué. I wanted the Noshi to look as if it was made from individual pieces of red and black printed silk noil.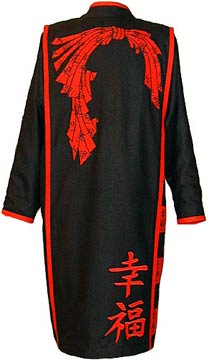 Step 1

I stamped randomly on the red silk noil in approximately the area where the Noshi would be cut. (I used the kanji stamps but anything would work here).

Step 2
Then I used the freezer paper pattern to cut out the appliqué.
At this time I marked all the internal detail lines, by gently lifting the freezer paper and inserting tracing paper underneath.

Step 3

After fusing the noshi to the back of the jacket it was satin stitched around all the edges including the detail lines.

By using this method I drastically cut my time to create an effective appliqué, while giving it dimension a solid color just wouldn't have!